Connor Benzey is one of English snooker's most promising youngsters. The 18-year-old Southampton cueist finished second on this season's EPSB Under-21 Premier Development Tour and reached the last 16 of the World Snooker Federation Open in Malta. As a reward for these efforts, Benzey was nominated by the EPSB as one of its two invites for the upcoming English Open professional ranking event taking place at the Marshall Arena in Milton Keynes next week.
We caught up with Connor to discuss his career to date and his hopes for the future…
Hi Connor! Thanks for taking time out to talk to us here at the EPSB. How and when did you first come across snooker and are there any people/players that you looked up to and/or inspired you?
My dad has always been involved with snooker in some way or another, so I was around the sport when I was young. I first started when I was 9-years-old; my school friend invited me to go down to the Chandlers Ford Snooker Club for one the junior leagues and I've been playing ever since.
Where do you generally practice and play your snooker, and do you have any regular practice partners and coaches/people that support you?
I practiced down Chandlers Ford SC for most of my career but recently I have started going to an exclusive training base in Wiltshire where I'm always playing on the best possible conditions. There are always professionals at the base such as Jamie O'Neill, Peter Devlin, Jamie Wilson and Jack Lisowski – these are practice partners I can always have games with.
Do you have a career highlight so far?
My career highlight so far would be winning a European under-17s event in Malta last year. I was not really known by anyone in the competition and nobody really thought I was any good, but I ended up winning it. Also having the opportunity to play in the world championship qualifiers this year was great.
Obviously this season has had a huge gap in it, but how do you feel it has gone for you, on the EPSB circuit and in tournaments elsewhere?
I think I had a good season in the EPSB tournaments, especially the Under-21 Premier Development Tour as it was my first season on it and I managed to get second place, and nearly getting top spot despite the fact I didn't play great all year.
Because of your efforts at the WSF Open, the WPBSA invited you to the World Championship qualifiers in the summer. You lost to Peter Lines, but what was that experience like and did you learn anything from the occasion?
Playing Peter Lines in Sheffield was a great experience. Even though I didn't get the result I wanted, it showed me what parts of my game I needed to improve on and what is needed to get to the next level and compete against established professionals.
As reward for your fine efforts over the past 12 months, you have been selected by the EPSB to play at the upcoming English Open in Milton Keynes. You must be excited about it – what hopes do you have for the event?
I am very excited to play in the English Open as it's another great opportunity for me. My ambitions are to win my match, just enjoy myself out there and play like I know I can.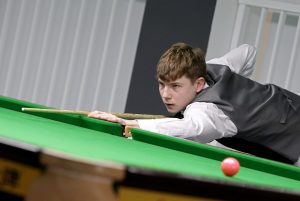 How have you managed this year with lockdown and restrictions on events? Were you able to practice much? Do you have any other hobbies away from the table?
Lockdown was great for me, I think; it gave me a well needed break and then I managed to have a good few months on my own practicing and working on my game when most of the other players unfortunately couldn't.
What are your snooker ambitions in the short and long term?
My short-term goal would be to get onto the World Snooker Tour, but not just be another number at an event – I want to be able to compete.
Long term goal is to win events on the professional tour and to be world champion.
Connor has been drawn to play Scotland's Fraser Patrick in the first round of the English Open and is due to play on Monday 12th October at 1900.
This season's EPSB U21 PDT number one ranked player and reigning English under-21 champion Mark Lloyd is the EPSB's other nomination for the event in Milton Keynes. Lloyd is scheduled to face Ryan Day at 1900 on Tuesday 13th October.