Action in the historic 100th English Amateur Snooker Championship – snooker's longest running competition – began last Sunday with five regional qualifying heats taking place up and down the country. 
The path to February's final in Cheltenham and subsequent glory is still open to these 20 qualifiers who will now make plans for stage two at the Northern Snooker Centre in Leeds on Sunday January 26th, 2020.  
North West | Elite Snooker Club, Preston
Qualifiers – Chris Norbury, Stephen Croft, Simon Bedford, Simon Blackwell 
A trio of former professionals in Norbury, Croft and Bedford made it through, as did Blackwell, who set the overall high break benchmark during a high-quality day's play in Preston. 
Host venue co-owner Norbury secured his berth with a final round win over Stephen Delaney 4-2, while 1998 Crucible qualifier Bedford saw off teenager Ryan Davies 4-0. Croft was stage one's 'Iron Man' after running a gauntlet of four matches with victories over Mark Ball, Marcus Lord and Josh Mulholland before ousting Ian Martin 4-3. Blackwell finished off his 4-2 third round win against John Welsh with an effort of 136; the best out of all five regions. He then eliminated Sean Maddocks by the same score line. 
Sanderson Lam made a 134, Maddocks (116) and Martin (115) also struck tons. 
North East | Tradewell Snooker Club, Hull
Qualifiers – Jake Nicholson, Sean McAllister, Anthony Parsons, Shaun Wilkes 
2014 runner-up Parsons won three rounds, culminating in a 4-3 triumph over Jonathan Bagley. He also crafted the highest break at the venue with a 108. Nicholson, winner of World Snooker's Challenge Tour Event Two earlier this season, defeated last month's English Amateur Tour Event Three runner-up Lewis Gillen, former professional Jeff Cundy and then English Amateur Tour Event Two champion Daniel Womersley 4-1 to progress. McAllister denied Kristian Willetts 4-1 and Wilkes, who had earlier fashioned an impressive victory over Ashley Hugill, ended the hopes of Scott Raper. 
Bagley (103) and Nicholson (100) made centuries too. 
Midlands | Cueball Derby, Derby
Qualifiers – Rory McLeod, Geoff Williams, Andy Marriott, Luke Simmonds 
McLeod dropped just one frame in three matches, finishing with a win over youngster Halim Hussain. The former European Tour event winner constructed a 102 during the day. Williams made his passage to the last 20 after navigating Lee Shanker and Marriot did likewise against Ryan Roberts. On his way through Simmonds defeated national under-18 and 6-red champion Jenson Kendrick and the in-form Oliver Brown; recent Challenge Tour and English Amateur Tour event winner. 
Brown registered the other ton of the day, also a 102.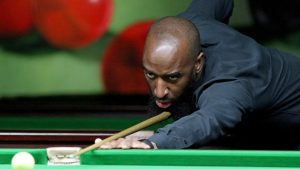 South West | 
Martock
Snooker Club, Martock
Qualifiers – Ben Hancorn, Josh Symes, Aidan Murphy, Tom Peasland 
A finalist in 2008, Hancorn can still go one better this season after moving forward from Martock in Somerset with a 4-2 victory over Nick Sully. Symes squeezed past Jamie Trump 4-3. Teenager Aidan Murphy didn't relinquish a frame as he won both his matches 4-0, his last round being a success against Steven Nevett, meanwhile Peasland got past Tony Watts 4-2 as his last hurdle. 
South East | Legends Snooker Academy, London
Qualifiers – Labeeb Ahmed, Alex Clenshaw, Sean Harvey, Bradley Jones 
Former Crucible qualifier Jones stamped his ticket for Leeds next month after a 4-2 final round win over under-21 national champion Mark Lloyd. Harvey produced the same result seeing off Dean Venables. 4-2 was also the same score line for Clenshaw against Sean O'Sullivan, who was stopped after a hat-trick of wins throughout the day. Ahmed dispatched Matthew Glasby via a deciding frame to advance. 
For the full results from all five regional qualifiers, please visit snookerscores.net here.
Further information about the last 20 stage will be released in due course.