The first four qualifiers progressing to the next stage of this season's revamped English Under-14 Snooker Championship were discovered last weekend. 
Throughout October and November, 17 different venues are scheduled to host and run club qualifying competitions for the new look championship in an effort to make the event as accessible and affordable as possible, thus significantly boosting the number of overall entries. 
On Saturday, at the Cueball Derby, Westley Cooper and Edward Taylor became the opening players to book spots in Stage Two when they reached the final, in which Cooper triumphed to take home the trophy.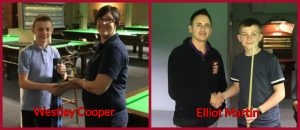 The following day at Frames in Coulsdon it was a family affair as brothers Elliot and Oliver Martin emerged from opposite halves of the draw to secure their qualification. Elliot would subsequently win the final. 
Several further club qualifiers are due to be held in the coming weeks, with the Northern Snooker Centre in Leeds under the limelight this Saturday. 
Qualifiers for Stage Two – Westley Cooper and Edward Taylor (Cueball Derby), Elliot Martin and Oliver Martin (Frames Coulsdon) 
Challenge Tour News
Event Three of World Snooker's 2019/20 Challenge Tour took place at the Northern SC last weekend, featuring a plethora of top amateur names from England. 
Ashley Hugill, a competitor on this season's English Amateur Tour, wrote headlines on the opening day when he compiled a 147 maximum break during his 3-0 first round victory against Germany's Felix Frede. 
Over half of the quarter-final line up in Yorkshire consisted of English players – George Pragnell, Daniel Womersley, Hugill, Sanderson Lam and Zak Surety. Pragnell and Surety both secured semi-final finishes.
The tournament was won by Wales' Andrew Pagett who defeated youngster Robbie McGuigan of Northern Ireland in the final. 
Draws for Saturday and Sunday – Out Now
The draws for this weekend's English Amateur Tour Event Two (Crucible Sports and Social, Newbury) and Under-20 Regional Development Tour events (Midlands – Tamworth Sports and North – Hazel Grove, Stockport) are now online via the WPBSA Tournament Manager system HERE. 
For players at Newbury, the schedule has also been published. 
Upcoming Events – Last Chance to Enter
A reminder that entries for this season's English Over-55 Championship and South Qualifying event for the English Under-16 Championship need to be in by the end of this week. 
The Over-55 Championship is initially split into North (Scotties Snooker Club, Liverpool) and South (Crucible Sports and Social, Newbury) one-day 'qualifying' events on Saturday 19th October with a winner from each advancing to the national final later in the season. 
The South area qualifying event for the Under-16 Championship takes place at Chandlers Ford Snooker Club on Sunday 20th October.  
North and Midlands area qualifying events for the Under-16 Championship both take place on the 2nd November (players have up to and including the 27th October to enter these qualifiers).
To enter any of the EPSB's events this season, please visit the EPSB MemberZone HERE which is located under the EPSB Login tab in the top right hand corner of our website.