Rory McLeod tasted success on this season's English Amateur Tour for the second time after claiming the Event Four title at the Cueball Derby last weekend. 
The former world professional number 32 and Ruhr Open champion began the circuit perfectly in the autumn when he secured Event One at The Winchester in Leicester. This latest triumph sees him move back to the top of the rankings. 
McLeod started the event by crafting a trio of half centuries as he defeated Matthew Glasby 4-1, he then top scored with a 95 in eliminating Lee Shanker 4-1 in the last 16. A run of 91 helped him see off Kieran Brighton 4-0 in the quarter-finals before registering another 4-0 clean sweep against Ben Hancorn in the last four where he continued his strong scoring with efforts of 60, 80 and 129 – the latter would stand as the competition's highest break.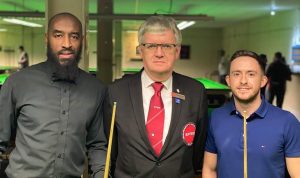 For fellow ex-professional O'Sullivan (pictured above) this would be his second English Amateur Tour final appearance in the previous three events. The first three stops on this 2019/20 tour yielded six different finalists. 
Londoner O'Sullivan got the better of Kuldesh Johal before coming through consecutive deciding frame finishes against Danny Brindle and current English Under-18 and 6-Red Champion Jenson Kendrick. He then extracted some revenge by stopping Daniel Womersley 4-1 in the semi-finals, the opponent he lost to in the Event Two final at the Crucible Newbury in October. 
Both McLeod and O'Sullivan – along with several other EPSB members – will travel to Malta later this week for the World Snooker Federation Open where a two-year professional tour card is on offer to the winner. 
The EPSB would like to thank all the officials who helped during the event and to the staff at Cueball Derby. 
For results and breaks from English Amateur Tour Event Four please visit snookerscores.net here. 
The fifth and final tour stop will be played on the weekend of the 1st and 2nd February at the Tamworth Sports Bar. To enter, please use the EPSB MemberZone here.