The English Partnership for Snooker and Billiards is today delighted to announce its nominations for the upcoming 2020 World Snooker Federation Opens in Malta. 
Held across a fortnight, this festival of international amateur snooker is split into two events; the WSF Junior Open (4th-9th January) and the WSF Open (10th-17th January). The winner of each event will receive a coveted two-year professional tour card for the 2020/21 and 2021/22 seasons. 
Whilst both events are open to all amateur players who are members of their national governing body, NGBs have been given the opportunity to select players for each tournament, who will then receive preferential seeding in the group stage draws. After careful consideration, the EPSB Board can now confirm its picks:
EPSB selections for the WSF Junior Open:
Ryan Davies 
Paul Deaville 
EPSB selections for the WSF Open:
In the WSF Junior Open – available to players aged 17 and under on the 31st December 2019 – last season's Under-21 Premier Tour rankings winner Ryan Davies and the current English Under-16 national champion Paul Deaville will represent. 
Leo Fernandez, who finished second in the 2018/19 English Amateur Tour rankings, and Mark Lloyd, the reigning English Under-21 national champion, claim the allocated spots in the WSF Open, which is open to all age groups.  
Please note that last season's English Amateur Tour rankings winner and both finalists of the English Amateur Championship are all currently on the professional circuit.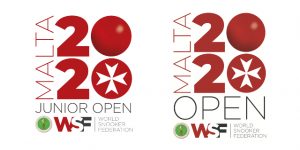 Once again, we remind everyone that both events are open to all amateur players provided they are eligible and are members of their national governing body. For further information on the event and instructions on how to enter, please visit the World Snooker Federation's website here. Entries close at 17.00 GMT on Sunday 1 December 2019.
The EPSB would like to congratulate Leo, Mark, Ryan and Paul, and wish good luck to all our members who will take part in Malta in January.