Following triumphs in various international amateur competitions, an incredible nine players from this season's EPSB ranks have won promotion to the World Snooker Tour; four of which will be returning to the professional circuit, whereas the other five have fulfilled a lifelong ambition by getting there for the first time.
The first to make the step up was Ashley Hugill after his victory at the World Snooker Federation Open in Malta at the start of 2020. Hugill made sure of a swift top tier return with an exciting 5-3 win over Ukrainian teenager Iulian Boiko in amateur snooker's most lucrative final. The 25-year-old has had a fantastic campaign elsewhere, too – on this season's WST Challenge Tour he won two events, made a 147 maximum break and finished top of the rankings. Hugill also reached the last 16 of the Gibraltar Open.
First to join Hugill was 18-year-old Sean Maddocks. A regular on the EPSB Under-21 Premier Development Tour, Maddocks narrowly missed out on the pro circuit in 2019 when he reached the final round of a Q School event. However, following runs to the final of both the World Snooker Federation Junior Open and the EBSA European Under-18 Championship in recent months, Maddocks was rewarded with a coveted tour card for 2020/21 and 2021/22.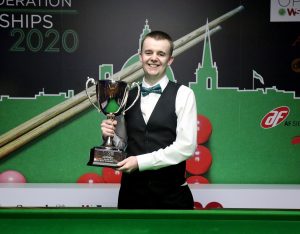 Q School Qualifiers
An influx in numbers came from the recent 2020 Q School at the English Institute of Sport in Sheffield where seven EPSB cueists qualified from the gruelling week-long event.
Emerging from the EIS first was 2016 English under-21 champion Peter Devlin. Londoner Devlin was undefeated in South Yorkshire having qualified for the last 64 of all three events, but he booked a maiden top tier berth at the first time of asking, concluding with a 4-2 final round victory over recently relegated professional John Astley in event one.
Another two members came through the second event; Ben Hancorn and Zak Surety. Surety ended a four-year wait to recapture his pro tour stripes with a 4-1 defeat of Leo Fernandez. At 38 years old and having taken a prolonged spell away from the sport previously, Hancorn – winner of this year's 100th English Amateur Snooker Championship – finally realised his dream after a 4-0 win over another EPSB circuit regular Kuldesh Johal.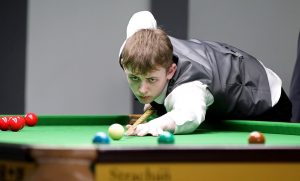 In the pressure cooker atmosphere of the third and final event, it was an EPSB clean sweep as Farakh Ajaib, Steven Hallworth, Rory McLeod and Jamie Wilson all made the grade.
Ajaib has tasted the WST before as a top-up player, but he will now compete there on a full-time basis following a 4-2 triumph over France's Brian Ochoiski at the last hurdle. At just 16-years-old, U21PDT player Wilson is the youngest to graduate from this year's rescheduled Q-School. Wilson racked up an amazing sequence of results on the last day, denying former professionals Luke Simmonds, Dave Finbow and Fang Xiongman before holding his nerve to oust Haydon Pinhey 4-3 on the colours.
Hallworth scored a notable win against Alfie Burden in the last round; stringing together the final four frames having fallen 2-0 behind. Captain of the EPSB England team at the 2019 Home Internationals, Hallworth is back in the limelight for the first time since 2016. The experienced McLeod – runner-up to Hancorn in the English amateur final but the number one ranked player from the English Amateur Tour – make sure his time in the amateur ranks was a short one when he saw off Paul Davison 4-2.
On this overwhelming success for so many of its players, EPSB Director Simon Berrisford said "Huge congratulations to all the EPSB players that have qualified for the World Snooker Tour next season – they should be very proud of their achievements. We will miss them all from our tournaments and now wish them good luck with their professional endeavours.
"I believe the players have earnt valuable experience by taking opportunities and entering events on the EPSB circuit. It is a massive success for English snooker to see so many, and such a variety of its amateurs making it to the sport's top level."